Posts Tagged Haunts
Originally Published on Techdirt.
For a while now, we have been highlighting many stories about the successful crowdfunding of movies, music, books and games. This new source of funding for creative content has been an exciting time for indie artists and those wanting to break free of traditional funding models. However, this funding model is not without its risks, something that Kickstarter has recognized with a change in the way projects are presented.
So what exactly happens when a successfully funded project fails to meet its completion goals? Well, reader Marcus Wellby sent along a story about one successfully funded game project that has hit some major roadblocks to completion. Haunts: The Manse Macabre, although successfully funded, has run out of money and programmers and was in danger of never being completed.
Haunts sought $25,000 (£15,590) from Kickstarter but the project proved popular and meant the game's developers got $28,739 (£17,895) to fund completion of the game. Prior to the funding appeal, Haunts creator Mob Rules Games had spent about $42,500 getting the basics of the title completed.

The end result was supposed to be a haunted house horror game in which players could take on the role of the house's inhabitants or intruders investigating what lived within it.

Now Mob Rules Games boss Rick Dakan has revealed that the game's development has prematurely halted.

"The principal cause for our dire condition is that there are no longer any programmers working on the game," said Mr Dakan in a blogpost updating backers.
You can see Rick's full explanation of the problems the game has had over at Kickstarter. With all the cash and programming problems, Rick felt so bad about letting down the backers that he was willing to refund, out of his own pocket, anyone who wanted their money back. While most companies will silently kill off projects that do not meet expectations, his forthcoming post about the state of affairs actually had a positive effect on the project's future.
The next day, Rick posted the following update.
I've had a lot of interested emails from programmers offering their help. Thank you all very much! There's a lot to sift through and I'm not sure what the best way to proceed will be, but I am very encouraged by these offers and want to try and figure out the best way to take advantage of this opportunity. I've reached out to a good friend of mine who's an expert in collaborative open source development, and he and I will talk soon. I also want to discuss this exciting development with Blue Mammoth and get their take on it.
By being open about the problems he was having completing the game, the community came in to offer their help. Granted, this is a unique circumstance, but having such a dedicated fan base is wonderful. Had he let the game fester with no updates for longer than he had, he might have been met with more hostility than encouragement. That would have made it far more difficult to find any kind of solution.
Finally, in the most recent update, Rick announced that after considering the situation and the best way to move forward, he will be open sourcing the game with over thirty programmers offering their help to complete it.
We're going to finish developing Haunts: The Manse Macabre as an Open Source project. The source code has been open from the beginning, but now we're going to fully embrace open development model and making the game entirely open source. We've had about thirty programmers from a variety of backgrounds, including many proficient in Go, who have stepped forward and offered to help finish the game. We're still in the process of setting up the infrastructure for issue tracking, source control, documentation wikis, and other tools necessary before we can begin in earnest, but we hope to have that all up and running within the next week or two.
While this story is far from over, it is a great lesson in the risks of any project whether crowdfunded or not. Projects can fail, they can have problems, they can be shuttered. The key takeaways from this story, however, are (1) being transparent (rather than hiding) with supporters can do wonders and (2) being flexible and willing to change course can help. Rick notes that there's been plenty of press coverage about the supposed "failure," but much less about what happened after…
We've gotten a lot of press coverage, most of it in the general vein of, "Look, see, Kickstarter projects can go bad, so be careful!" I think that's a fair and useful point to make. But we're committed to being the follow-up story. You know, the underdog who comes back from the brink of collapse and proves a resounding success!
Yes, this is a story that highlights the risk in any kind of crowdfunding endeavor. Backers may be out the money they put in with nothing to show for it. However, if those who run these projects will be open and honest through the whole process, stumbles and falls included, even if the project never comes to fruition, then the potential that such a failure will damage their reputation and future projects can be mitigated. And heck, maybe you will be struck with a miracle and your project will come back to life.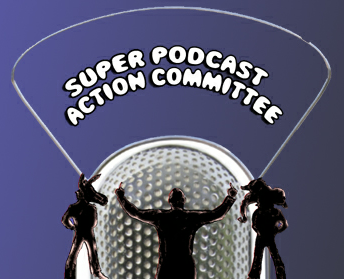 In Episode 25 of the Super Podcast Action Committee hosts Andrew Eisen and E. Zachary Knight talk about what happens when a fully funded Kickstarter project (in this case the game Haunts: The Manse Macabre) fails to become reality, the wisdom of knowing when to shut down a failing Kickstarter campaign (the focus of that topic being Loot Drop's attempts to fun the 'Old School RPG'), the latest on the "seven strikes" copyright enforcement scheme adopted by U.S. ISPs, Andrew's latest video, and the horrors of using voice chat on Nintendo's Wii U. Download it now: SuperPAC Episode 25(1 hour, 6 minutes) 61.5 MB.
As always, you can subscribe to the show on iTunes and use our RSS Feed to add the show to your favorite news reader. You can also find us onFacebook (where there's an app that will let you listen to the show), and on Twitter @SuperPACPodcast. You can send us feedback on the show by dropping a note to superpacpodcast@gmail.com.
Credits: The Super Podcast Action Committee is hosted by E. Zachary Knight and Andrew Eisen, and produced by James Fudge. Music in the show includes "Albino" by Brian Boyko and "Barroom Ballet" by Kevin MacLeod. Both are in the public domain and free to use.