Posts Tagged Minecraft

If you missed Saturday's live broadcast of Super Podcast Action Committee (Episode 114), you can watch the video replay on YouTube or download it below.
On this week's show hosts Andrew Eisen and E. Zachary Knight discuss the Pikmin movie (18:48 mark), the latest GamePolitics poll (24:09), Sega's new policy on community comments (36:05), Bohemia's comments on DayZ being an early access game and customer complaints (45:06), and the CraftBukkit DMCA guy getting swatted (49:49). You can grab an audio version of the show on iTunes or at the link below:
SuperPAC Episode 114 (1 hour, 14 minutes) 93 MB (the show was live so it is made available in its raw, unedited format).
As always, you can subscribe to the show on iTunes and use our RSS Feed to add the show to your favorite news reader. You can also find us on Facebook, on Twitter @SuperPACPodcast andGoogle +. You can send us feedback on the show by dropping a note tosuperpacpodcast@gmail.com.
Credits: The Super Podcast Action Committee is hosted by E. Zachary Knight and Andrew Eisen, and produced by James Fudge. Music in the show includes "Albino" by Brian Boyko and "Barroom Ballet" by Kevin MacLeod. Both are in the public domain and free to use. ECA bumper created by Andrew Eisen.
Originally Published on Techdirt.
Last time we visited Notch, the creator of Minecraft, and his legal woes, he was being sued for trademark infringement over his company Mojang's latest game, Scrolls. That suit was eventually settled—though unfortunately not over a Quake 3 match as Notch proposed. We probably won't get a similar offer from Notch in this new scenario: he's being sued for patent infringement by the Eastern Texas-based patent troll Uniloc. This is the same Uniloc whose suit against Microsoft led to the CAFC ruling that 25% of all profits for a single patent infringement claim was just a tad excessive.
So why exactly is Mojang getting sued for patent infringement? Well, Uniloc was awarded a patent for a "System and Method for Preventing Unauthorized Access to Electronic Data" back in 2005 (Patent # 6,857,067). The primary claim is that since Mojang has an Android game that uses a network to communicate with an authorization server to perform a license validation check, Mojang has willfully infringed on the patent. The game named in the suit is "Mindcraft"—which of course is not actually the name of Mojang's game. While it is very possible that Mojang may be infringing this patent, Notch stated in a follow up tweet that he is more than willing to "throw piles of money at making sure they don't get a cent". On that same front, this patent could also be invalidated if it is successfully challenged in court.
Perhaps Notch can take some solace in knowing that he is apparently not alone in being sued. According to Reddit, a number of other game companies are being sued for infringing this same patent. This list includes the likes of Gameloft, EA, Square Enix, Halfbrick Studios and a number of other developers. This practice of suing multiple parties for infringing a single patent is a typical sign of a patent troll. It is also a symptom of the huge mess that is software patents.
In a followup blog post, Notch reflected on the idea of software patents and patents in general. He even provided a nice illustration of theft, copyright infringement and patent infringement.
But there is no way in hell you can convince me that it's beneficial for society to not share ideas. Ideas are free. They improve on old things, make them better, and this results in all of society being better. Sharing ideas is how we improve.

A common argument for patents is that inventors won't invent unless they can protect their ideas. The problem with this argument is that patents apply even if the infringer came up with the idea independently. If the idea is that easy to think of, why do we need to reward the person who happened to be first?
The post is short but full of some really good insights. Some of them we have touched on before, such as the idea that patents are actually harmful to the software industry. This suit also illustrates another point we have recently written about: how it is impossible to avoid infringing someone's patent. On the bright side, as more such patent infringement suits are filed and more companies and individuals are harmed by the current patent system, perhaps we will see those in Washington take notice and implement some real reforms.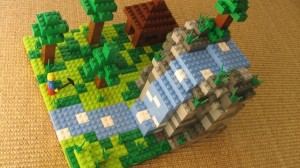 In what is probably the most awesome combination in all history, we now have Lego Minecraft winding its way through research and development. Seriously, there is not enough awesome to contain this news.
Seeing LEGO Minecraft sets is also our dream, so we linked to one of the projects. It's clear to us that there are many creative people with good ideas for this and we want to throw our own hat into the ring and start this project to bring the best LEGO Minecraft builders together.
While Minecraft itself is about as close as possible one can get to a virtual Lego set, the idea of having fully branded Minecraft Legos rocks. It will be interesting to see exactly what sets come out of this. There is plenty of potential. In fact, I would prefer it if it came in a bucket for free form building with a few suggested directions. But either way, I will be all over this.
Of course the lack of official Lego sets has not stop numerous creative people from coming up with really great Minecraft themed sets. Here is a collection from Brothers Brick.  Seriously, check that out. This guy even gets the underworld and monsters into it.