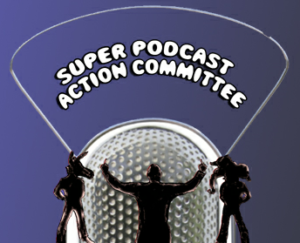 So I am falling behind on these, again. However, there are only three episodes to post about. So that's better than the nine from last time. So without further ado, here are episodes 9 through 11 of the Super Podcast Action Committee:
Episode 9
Note: I was absent from this one. Sorry.
We dedicate Episode 9 of the Super Podcast Action Committee to Independence Day! This week James and Andrew decide to bitch and moan about Battlefield 3, LEGO Batman 2, and some other topics that rub them the wrong way. We also spend a little bit of time talking about the ECA'sDeclaration of Internet Freedom. This episode contains naughty language, which we apologize for in advance. Download Episode 9 it here: SuperPAC Episode 9 (1 Hour, 2 Minutes).
Episode 10
We hit a milestone this week – our 10th episode of the show! This week Andrew and Zachary talk about patent wars, the European Court's ruling that digital games can be resold, the controversy over Blizzard banning some Linux-using Diablo III players, and a whole lot of other interesting topics. Download Episode 10 here: SuperPAC Episode 10 (1 Hour, 3 Minutes).
Episode 11
Admittedly, Episode 11 of the Super Podcast Action Committee is late – and due to a software upgrade gone awry – it's shorter than usual too. Despite the setbacks and the poor audio quality the show must go on and go on it does for 32 minutes before E. Zachary Knight is unceremoniously cut off by the evil program known as Pamela. We do manage to reveal the results of last week's GamePolitics poll about the OUYA and spend a fair bit of time talking about why the Android-powered home console that has managed to raise $5 million on Kickstarter so far may drive big console makers mad… Download Episode 11 here: SuperPAC Episode 11 (32 Minutes).
As always, you can subscribe to the show on iTunes and use our RSS Feed to add the show to your favorite news reader. You can also find us onFacebook (where there's an app that will let you listen to the show), and on Twitter @SuperPACPodcast. You can send us feedback on the show by dropping a note to superpacpodcast@gmail.com.
Credits: The Super Podcast Action Committee is hosted by E. Zachary Knight and Andrew Eisen, and produced by James Fudge. Music in the show includes "Albino" by Brian Boyko and "Barroom Ballet" by Kevin MacLeod. Both are in the public domain and free to use.