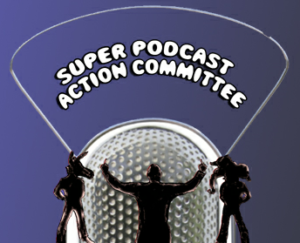 Episode 47 of the Super Podcast Action Committee is finally available after a rocky start to the week for Andrew and EZK, who both are apparently very sick. Nevertheless, they tough it out to catch up on the last two polls (one about dying Xbox 360s and another about punishing politicians for creating unconstitutional laws) and take some time to give EA kudos for winning the Worst Company in America for a second year in a row. Will 2014 make the third time the charm? Stay tuned! Download Episode 47 now: SuperPAC Episode 47 (1 hour, 16 minutes) 69.6 MB.
Programming note: due to this week's show being published so late in the week (we are sorry we made you wait so long!) we will not be recording an episode this coming weekend. The next episode (barring any further calamites or illnesses) will go live on Monday, April 22.
As always, you can subscribe to the show on iTunes and use our RSS Feed to add the show to your favorite news reader. You can also find us on Facebook, on Twitter @SuperPACPodcast and Google +. You can send us feedback on the show by dropping a note to superpacpodcast@gmail.com.
Credits: The Super Podcast Action Committee is hosted by E. Zachary Knight and Andrew Eisen, and produced by James Fudge. Music in the show includes "Albino" by Brian Boyko and "Barroom Ballet" by Kevin MacLeod. Both are in the public domain and free to use. ECA bumper created by Andrew Eisen.