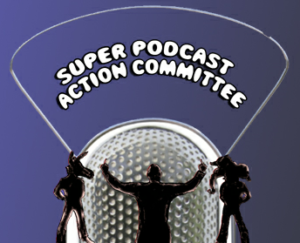 In Episode 51 hosts Andrew Eisen and E. Zachary Knight talk about the possible name of the next Xbox console from Microsoft, two studies about violent video games, Iron Man 3, the Diablo III gold duping exploit introduced in the last update to the game, and some other equally delightful topics related to video games. Download Episode 51 now: SuperPAC Episode 51 (1 hour, 15 minutes) 68.7 MB.
As always, you can subscribe to the show on iTunes and use our RSS Feed to add the show to your favorite news reader. You can also find us on Facebook, on Twitter@SuperPACPodcast and Google +. You can send us feedback on the show by dropping a note to superpacpodcast@gmail.com.
Credits: The Super Podcast Action Committee is hosted by E. Zachary Knight and Andrew Eisen, and produced by James Fudge. Music in the show includes "Albino" by Brian Boyko and "Barroom Ballet" by Kevin MacLeod. Both are in the public domain and free to use. ECA bumper created by Andrew Eisen.