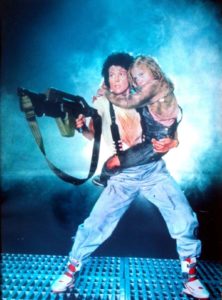 In celebration of Alien Day (4/26, because the original Alien movies take place on a planetoid named LV-426), footwear and apparel company Reebok released a limited edition run of the high-top sneakers Sigourney Weaver's character Ellen Ripley wore in the first Alien sequel (pictured left).  Considering Ripley is, at least from an American perspective, the preeminent female action hero, fans were stunned to learn that her shoes were only available in men's sizes.
What the hell, right?
I looked far and wide but saw no evidence that Ripley's Alien Stompers were available (in America, at least) in anything less than a men's size 8 which translates to a women's size 9.5 or 10, quite a bit larger than most women wear.  As you can see in the screen capture below, Ripley's Alien Stompers seem to be available only in sizes 9 – 12.  Not only that, but they're categorized as "Men Classics."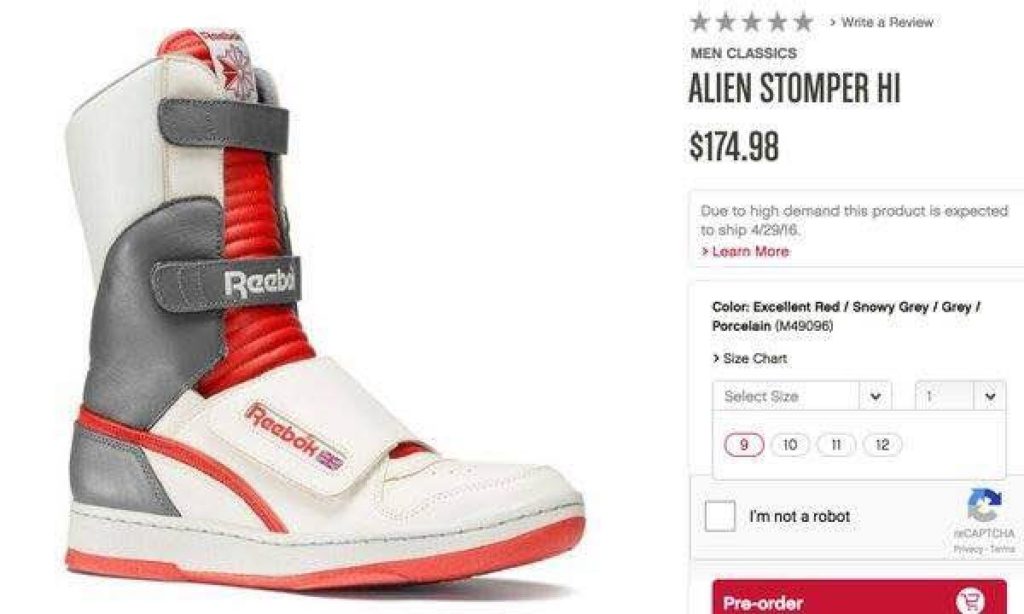 Yeah…
For its part, Reebok released a statement saying, "The Alien Stomper was mis-categorized on our US website as a men's shoe. While size availability varied by market, the Alien Stomper is a unisex style and was produced in sizes (US Men's) 3.5 – 12, which is a typical size range for a unisex model."
As mentioned, these spiffy kicks were super-limited edition and only 36 of the total batch of 426 were made available to US consumers.  Were any of that batch available in sizes less than a men's 8?  How many?  Did they all sell out so quickly that no one reporting on this stuff can find evidence of their existence?
Possibly so!  But I'm a snarky little twerp so I said on Twitter:
"If these Ripley shoes from Aliens were only made available in Men's sizes then @Reebok is a nincompoop."
I'll admit, I was rather surprised when @ReebokWomen responded:
"Well…since they were made in unisex sizes then we are definitely not a nincompoop.

"
Well that's lovely to hear.  No one likes a nincompoop and certainly no one wants to be one.  So, while I had Reebok Women's ear, I asked "what sizes smaller than a Men's 8 were they sold in? How many of each?"
Reebok Women replied, "Sizes 3.5-12 ranged globally!"
That's… not quite what I asked.  But, it's par for the course when it comes to company responses, if you can even get one in the first place.
So, this morning I browsed eBay to see what I could find.
As of this writing there are 20 pairs of these shoes available in the following men's sizes:
| Size | Quantity |
| --- | --- |
| 7 |       3 |
| 8 |       6 |
| 8.5 |       1 |
| 10 |       8 |
| 10.5 |       1 |
| 11 |       1 |
Men's 7 is still a woman's 8.5 or 9, a shoe that's going to be too big for most women.  Does that prove anything?  No.  But it certainly gives the impression that it never occurred to Reebok that women (American women, at least) would be interested in owning a replica of the 80s-tastic sneakers worn by arguably the most recognizable female action hero in Hollywood movie history.
For what it's worth, Reebok also released a replica of Bishop's mid-top sneakers.  I found 42 of them on eBay ranging from size 5 to 12.5.
| Size | Quantity |
| --- | --- |
| 5 |       1 |
| 6 |       1 |
| 6.5 |       3 |
| 7 |       2 |
| 7.5 |       2 |
| 8 |       6 |
| 8.5 |       2 |
| 9 |       6 |
| 9.5 |       6 |
| 10 |       8 |
| 10.5 |       4 |
| 12.5 |       1 |