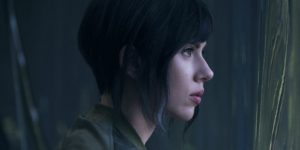 Okay, let's make sure we're all on the same page.
Ghost in the Shell is a Japanese comic book from the late '80s that was made into an incredibly popular animated film in 1995.  Courtesy of Paramount and DreamWorks, the seminal anime classic is being made into a live-action feature staring Scarlet Johansson as Major Motoko Kusanagi.  As you might be able to tell from the character's name, Kusanagi is Japanese.  And as you might be able to tell from the production still to the left, Johansson is not.
This has prompted numerous internet discussions (of varying levels of nuance and politeness) of "whitewashing," the trend of casting white actors in non-white rolls.  According to a report in Screen Crush last week, Paramount and DreamWorks had commissioned visual effects tests to determine if Johansson's appearance could be digitally altered to look Asian.
I have some thoughts about this.
12 Comments