Archive for category Tower News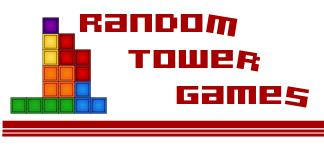 I first started this blog as a web presence for sales of games and other things I found interesting through sites like Amazon. I wanted a place to promote that work and just write about game related things that interested me. This site has become something that I think could become something great. So I am asking now for help in making it so.
We are looking for some people to help ferret out the interesting stuff that is happening and help write blog posts. Most of our content is editorial in nature and that is what we are looking for. Simple reporting just isn't enough. People want the dirt and hear the harsh criticisms and honest critiques of the games industry. Of course that does not mean we can't simply report. Game reviews and other interesting tid bits should also be shared. Your creativity is key.
Speaking of creativity, we also need these same individuals to help in promoting this site with the gaming community and to begin using its social media presence to build a great community around Random Tower.
None of this is something we can do on our own.
If you are interested in writing for Random Tower, please get in touch. You can comment here with your interest. You can also use the contact form. If you are more of a traditionalist, you can email E. Zachary Knight directly at zachary (at) randomtower.com.
When you do respond, please include samples pertaining to games in some way. These can be blog posts you have written on other sites, game reviews you have written, or reports you did in school. We do prefer these samples to be game related but will consider samples that are marginally related, just to help gauge your qualifications. We also prefer an eye for grammar and spelling. While we will attempt to edit everything we publish, it helps if those writing for us make that process easy.
Keep in mind that this work is done on a strictly volunteer basis for the time being. Random Tower is not at the capacity that we can pay, as it is mostly a side project. We will however attempt to provide incentives beyond just recognition. Just don't count on much at the beginning.
We are excited about the future of gaming and hope to be a part of its future.
I recently started selling games and other things on Amazon. I am hoping to make this a profitable side business to my current full time job of web development. So far things are doing quite well. I am about 3 weeks in and have made about $200 after an initial $200 investment in inventory. So not bad at all.
I plan to use this site to highlight inventory items that I think would make a good buy, not just for me but also for you. You are the reason I started selling. I have a number of games that I enjoyed over the years that I am now parting with and have found a number of games that I want to bring to the public. I can't guarantee that I have played all these games, but I will be honest when I talk about them.
One thing I do want to share is that you cannot underestimate the value of shopping at garage sales and on Craigslist. Most of my current inventory has come from those two sources. In fact, all the Final Fantasy games (except the SNES Final Fantasy 3) and all the Halo ODST/Forza 3 combos came from garage sales. I have also found some good deals on Craigslist, although those seem to be far in between.
Hopefully, I will see my inventory grow and there will be more games for everyone to find.