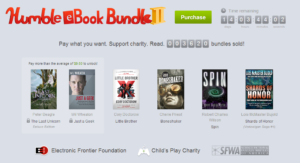 I want to say that first off, this post is not about the new Humble eBook Bundle. While I am excited about a new eBook bundle, I loved the last one, I want to focus more on the no-DRM aspect of this and one other story that caught my attention today. DRM is a horrible practice akin to kicking your paying customers. I have complained about it many times before. I refuse to buy any product that is laced with it. The lack of DRM is one of the reasons why I love the Humble Bundle.
But this bundle also highlights another company we should all love. The book publishing company Tor made head lines last year when it decided to remove DRM from all of its ebooks. It made this move in spite of complaints from other publishing firms. This move makes Tor the only one of the "Big 5" publishing houses to ditch DRM. It also explains Tor's partnership with the Humble eBook Bundle. Tor understands what readers and fans want. They want convenience. They want freedom to read how, when and where they wish. They don't want a publisher treating them as criminals in disguise. So yes, buy this bundle and pay more than the average so that you can be sure to get the new goodies announced next week.
But another story caught my attention today too. This one is also about publishing, but from the comics angle. Image comics, the publishers of the Walking Dead and the third largest comics publisher in the world, has announced that all of its digital comics will be published without DRM. This is a first for any major comics publishing house. In an explanation of the policy change, Image's Director of Business Development Ron Richards said:
There's something to be said for the ownership factor. If readers purchase a book on ComiXology, that may be their library [on the service] but from what I understand that could be revoked. And God forbid, if ComiXology goes under or their data center has an earthquake all their hard drives go away — then you've got nothing.
This is a common fear among all consumers of DRM'ed goods. It is a fear that is not irrational or unfounded. It is a fear that has been realized repeatedly in games, movies, music and even books. Eventually, the servers that control that DRM will go down, whether that is planned or not, and the consumer will lose access to their purchased content. Even ComiXology had a similar problem. And the revocation of that content? We have seen that many times in games where gamers lose all their content upon being banned for even the most minor of offenses. It has also happened in books where purchasers of the Orwell novel 1984 had their ownership revoked when Amazon had a dispute with the publisher.
DRM's origin lies in the fight against piracy. It was conceived of as a way to prevent people from copying a work and then sharing that work with everyone. Despite that being the goal, it has failed miserably at that. instead, it has opened the door to control over the actions of paying customers. It is the paying customers who suffer, not the pirates. The pirates have easy to use ways to bypass DRM and do so with glee. Yet, paying customers are strong armed into a position where they are only able to enjoy the things they paid for at the whim of the publisher. Tor and Image understand that is no way to treat the people who keep them in business.
These companies' shift away from DRM is great for fans of both books and comics. The fact that more large publishers are jumping the DRM ship shows that it is a failing business. As time moves forward we will see more and more companies abandon DRM just as the music and much of the games industry has. These moves have paved the way for all book and comic publishers to follow and at this point, the lone holdout on DRM is the movie industry. It has held so firmly to DRM that it has practically melded with DRM. So much in fact that it is trying to bend the internet and the world wide web to conform to its worldview rather than the other way around.
While the fight against DRM is still raging, we are winning the war. We need to continue to support publishers, writers, developers, musicians, and filmmakers who understand that DRM is not the way to go.