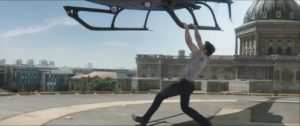 Other than directors Anthony and Joseph Russo still somehow failing to comprehend the very simple fact that shaking the camera during action scenes does nothing to increase audiences' enjoyment and in fact makes the action more difficult to follow and thereby frustrating to watch, I rather enjoyed Marvel's latest superhero film, Captain America: Civil War.
But I'm a nit picky pain in the posterior so I'm going to regale you with what I consider the biggest flaw in the film and why I'm a goofy hypocrite for thinking so.
At one point in the movie, Captain America is pursuing someone who is escaping in a helicopter.  Cap runs out onto the launch pad just as the chopper is taking off.  He leaps up, grabs one of the landing struts and uses his super-soldier strength to keep it from flying away.
Horse.  Poop.
Now, I don't doubt Cap is physically strong enough to hold a helicopter in place.  That I don't have a problem with.  No, what annoys me is the way he does it can't work unless that helicopter for some reason just happened to be loaded to maximum capacity.
Let's keep the physics super simple (I'm not going to get into newtons or anything) and say that in order to pull the chopper back down towards the landing pad, Cap would have to pull down with 2,000 pounds of force.  Here's the problem: without anchoring his feet (which he doesn't), he can't possibly do that!  As soon as Cap pulled down with more than his body weight, the only thing he'd accomplish is a pull up.  It doesn't matter if he has the strength to pull a lifting chopper back down to Earth because the reality of the situation as it's presented in the movie is that the chopper would take off with him clinging to it!
ARGH!!! So, so stupid!
And yet (and here's where the hypocrisy comes in), I have absolutely no problem with the way Captain America ricochets his shield off people and the surrounding environment, violating the laws of physics so egregiously that Spider-Man literally calls him out on it.
Anyway, I'm really looking forward to the reality-bending shenanigans of Doctor Strange!