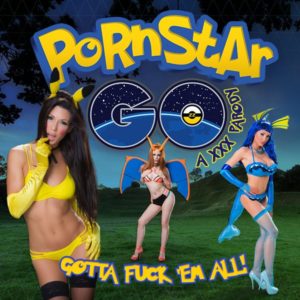 Internet rule #34 states that "If it exists, there is porn of it."
And so it goes with the recently released and super duper popular mobile title, Pokémon GO, an augmented reality game that tasks you with wandering around outside catching the wild Pokémon you find loitering in various parks, restaurants, and Holocaust museums.
In the porn parody, three porn stars cosplaying as Pikachu, Charizard and Vaporeon have gone missing and it's up to Ash to track them down and capture them with his phone's Pornstar GO app.
Based on the trailer, it looks like Ash captures porn stars by chucking anal beads (at least, that's what I'm guessing they are) instead of Pokéballs.  Once he has a Charizard, he attempts to capture Vaporeon by sending in Charizard to, I would presume, have sex with her.
I don't know how he managed to nab Charizard in the first place though.  It looks like she went down on him after he chucked a string of anal beads at her.  Which actually leads to the funniest part of the trailer.  Just like the game, all of the action happens on his phone so only he can see the porn stars he's interacting with.  This results in a confused look by his neighbor who is watching him wander around the yard and staring at his phone while pantomiming oral sex.
The costumes are silly and Ash doesn't appear to venture further than his own front yard but maybe it will be good for a laugh.  I probably won't be finding out though.  Things didn't go so well the last time I tried reviewing a porno.