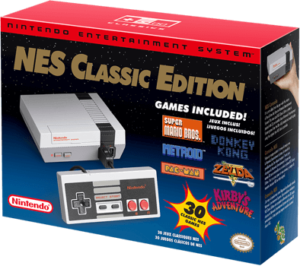 Last month, Nintendo announced the NES Classic Edition (Nintendo Classic Mini in the UK), a miniaturized NES console that comes preloaded with 30 classic NES games.  It launches in November for about 60 bucks.
Unfortunately, the 30 games that come with the console (listed below) are all you get.  You can't add more.
So, what do you think about the system's line up of games?  Any glaring omissions?  Any titles making you wonder why the heck they were included in the first place?
Balloon Fight™
BUBBLE BOBBLE
Castlevania™
Castlevania II: Simon's Quest™
Donkey Kong™
Donkey Kong Jr. ™
DOUBLE DRAGON II: THE REVENGE
Dr. Mario™
Excitebike™
FINAL FANTASY®
Galaga™
GHOSTS'N GOBLINS®
GRADIUS™
Ice Climber™
Kid Icarus™
Kirby's Adventure™
Mario Bros. ™
MEGA MAN® 2
Metroid™
NINJA GAIDEN
PAC-MAN™
Punch-Out!! ™ Featuring Mr. Dream
StarTropics™
SUPER C™
Super Mario Bros.™
Super Mario Bros. ™ 2
Super Mario Bros. ™ 3
TECMO BOWL
The Legend of Zelda™
Zelda II: The Adventure of Link™
Hit up the comments below and let us know what your ideal list of 30 NES games is.  Which titles are missing from the above list and which games would you drop to include them?  We'll share your ideas on this weekend's Molehill Mountain podcast.  It streams live Saturday night at 6p PST right here on RandomTower.  We hope to see you there!