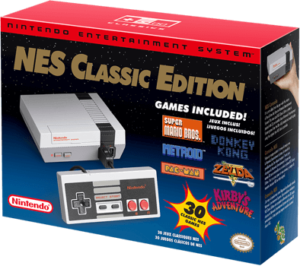 A few weeks ago, Nintendo announced the NES Classic Edition, a small console with 30 built-in games. These games are some of the greatest games ever released on the NES. Since the announcement, I have mentioned several times how this is a truly great deal to get all these games and a console to play them on for only $60.
However, there are some people who don't think that it is a great deal, that they could find a much better deal getting physical copies of all these games. To me, that is clearly bunk. However, I decided to take a look at how much one would have to spend to buy all these games and a console to play them on.
There are a couple of requirements I took into account. First, since this is an official Nintendo brand console, I priced only official hardware. There are aftermarket third party consoles that work just fine, but the cost savings in general didn't make a difference. Second, I am not everywhere at once. So I looked at the only retro options available to me. So what does that leave me? Ebay and Amazon make up the online stores that sell retro games. Next is the Wii U Virtual Console store, or the Wii VC if a game wasn't available for Wii U. Finally, I checked out my local retro gaming store Vintage Stock.
So what did I find out? Exactly what I have been saying all along. If you want a cheap retro gaming experience with 30 awesome games, $60 is a freaking awesome deal. Don't believe me? Below are the prices to prove it.
Some notes about this chart: Amazon prices are the lowest price listed regardless of quality. Ebay prices are the lowest price found on the sold listings. The * next to Wii U prices means the game is only available in the Wii VC store, which can be played using a Wii U. All console prices are lowest price found for official Nintendo hardware with cords and one controller. There are cheaper 3rd party aftermarket consoles out there but most are $30 or more.
| | | | | | | |
| --- | --- | --- | --- | --- | --- | --- |
|   | NES Classic | Amazon | ebay | WiiU VC | | Vintage Stock |
| Console | 60 | 74 | 38.74 | 300 | | 69.99 |
| Balloon Fight | 0 | 13 | 9.99 | 4.99 | | 24.99 |
| BUBBLE BOBBLE | 0 | 22.25 | 5 | 4.99 | * | 24.99 |
| Castlevania | 0 | 23 | 4.25 | 4.99 | | 24.99 |
| Castlevania II: Simon's Quest | 0 | 7.79 | 6 | 4.99 | | 16.99 |
| Donkey Kong | 0 | 41.99 | 14.5 | 4.99 | | 39.99 |
| Donkey Kong Jr. | 0 | 22.99 | 13.15 | 4.99 | | 24.99 |
| DOUBLE DRAGON II: THE REVENGE | 0 | 9.25 | 5 | 4.99 | * | 19.99 |
| Dr. Mario | 0 | 5.99 | 1 | 4.99 | | 12.99 |
| Excitebike | 0 | 8.83 | 2.25 | 4.99 | | 14.99 |
| FINAL FANTASY | 0 | 14.99 | 5.5 | 4.99 | * | 24.99 |
| Galaga | 0 | 15.75 | 3.25 | 4.99 | | 16.99 |
| GHOSTS'N GOBLINS | 0 | 14 | 9.08 | 4.99 | | 19.99 |
| GRADIUS | 0 | 8.2 | 5.5 | 4.99 | | 12.99 |
| Ice Climber | 0 | 17.17 | 9.99 | 4.99 | * | 19.99 |
| Kid Icarus | 0 | 24.98 | 14.5 | 4.99 | | 24.99 |
| Kirby's Adventure | 0 | 17.33 | 5 | 4.99 | | 24.99 |
| Mario Bros. | 0 | 23.7 | 5 | 4.99 | | 24.99 |
| MEGA MAN 2 | 0 | 30.5 | 5 | 4.99 | | 39.99 |
| Metroid | 0 | 18.98 | 6.5 | 4.99 | | 24.99 |
| NINJA GAIDEN | 0 | 12 | 4.99 | 4.99 | | 16.99 |
| PAC-MAN | 0 | 10.34 | 2 | 4.99 | | 14.99 |
| Punch-Out!! Featuring Mr. Dream | 0 | 11.97 | 8.5 | 4.99 | * | 19.99 |
| StarTropics | 0 | 4.38 | 4.99 | 4.99 | | 7.99 |
| SUPER C | 0 | 20.99 | 2.65 | 4.99 | | 24.99 |
| Super Mario Bros. | 0 | 6.25 | 5.5 | 4.99 | | 14.99 |
| Super Mario Bros. 2 | 0 | 19.41 | 9 | 4.99 | | 29.99 |
| Super Mario Bros. 3 | 0 | 15.99 | 5 | 4.99 | | 24.99 |
| TECMO BOWL | 0 | 12.94 | 0.99 | 4.99 | * | 9.99 |
| The Legend of Zelda | 0 | 27.95 | 3.65 | 4.99 | | 34.99 |
| Zelda II: The Adventure of Link | 0 | 14.4 | 4.25 | 4.99 | | 25.99 |
| Total | 60 | 571.31 | 220.72 | 449.7 |   | 735.69 |
| Total for games only |  0 | 497.31 | 181.98 | 149.7 | | 665.7 |