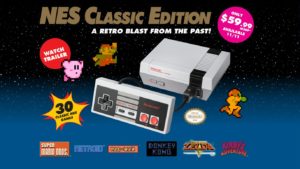 On November 11th, Nintendo will release the NES Classic Edition in the US for $59.99 (the UK version launches for a similar price around the same time).  The mini retro console will include 30 classic NES games and while we all have our favorites, most everyone agrees it's a pretty solid list of titles.
Still, the RandomTower crew thought it would be fun to come up with our own lists of 30 NES games and revealed them on last week's podcast.  For convenience's sake, I've reproduced our lists below so you can compare them to Nintendo's.  Games not on the original list are highlighted in red. 
Let us know what you think in the comments below and don't be shy about sharing your own lists.
Enjoy!
Nintendo's List
Andrew's List
EZK's List
 Balloon Fight
 

Super Dodge Ball

 

Adventure Island

 Bubble Bobble
 

Batman: The Video Game

 Batman: The Video Game

 Castlevania
 

Castlevania III: Dracula's Curse

 

The Adventures of Bayou Billy

 Castlevania II: Simon's Quest
 

Maniac Mansion

 Castlevania II: Simon's Quest
 Donkey Kong
 Donkey Kong
 

Maniac Mansion

 Donkey Kong Jr.
 

Bionic Commando

 

Bases Loaded

 Double Dragon II: The Revenge
 

Battletoads & Double Dragon

 

Bomberman

 Dr. Mario
 Dr. Mario
 

A Boy and His Blob: Trouble On Blobolonia

 Excitebike
 Excitebike
 

Castlequest

 Final Fantasy
 

Dragon Warrior IV

 Final Fantasy
 Galaga
 

Metal Storm

 

Metal Storm

 Ghosts 'n Goblins
 Ghosts 'n Goblins
 

Double Dragon

 Gradius
 

Life Force

 

Dragon Warior

 Ice Climber
 

Little Nemo: The Dream Master

 

Ducktales

 Kid Icarus
 

Blaster Master

 Kid Icarus
 Kirby's Adventure
 Kirby's Adventure
 Kirby's Adventure
 Mario Bros.
 Mario Bros.
 

Faxanadu

 Mega Man 2
 Mega Man 2
 Mega Man 2
 Metroid
 Metroid
 Metroid
 Ninja Gaiden
 

Ninja Gaiden II: The Dark Sword of Chaos

 Ninja Gaiden
 Pac-Man
 

Metal Gear

 

Gargoyle's Quest II

 Punch-Out!! Featuring Mr. Dream
 Punch-Out!! Featuring Mr. Dream
 

Gauntlet II

 Star Tropics
 Star Tropics
 

Adventures of Lolo

 Super C
 Super C
 

Crystalis

 Super Mario Bros.
 Super Mario Bros.
 

Princess Tomato In the Salad Kingdom

 Super Mario Bros. 2
 Super Mario Bros. 2
 

Robocop

 Super Mario Bros. 3
 Super Mario Bros. 3
 Super Mario Bros. 3
 Tecmo Bowl
 

Tecmo World Wrestling

 

Star Wars

 The Legend of Zelda
 The Legend of Zelda
 The Legend of Zelda
 Zelda II: The Adventure of Link
 Zelda II: The Adventure of Link
 

Teenage Mutant Ninja Turtles II: The Arcade Game