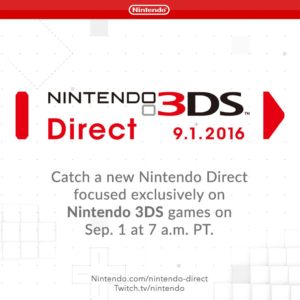 The Nintendo NX.
We know almost nothing official about Nintendo's "dedicated game platform with a brand-new concept" other than what I just put in quotes.  That's pretty much all the Big N has revealed about the sucker and we learned that a year and a half ago.  It's been radio silence ever since and rabid Nintendo fanboys like me have been DYING for new info.  Nintendo said it would reveal more about the NX in 2016.  Well, we still have four months left in the year and many think September is the month Nintendo will finally lift the curtain.
Yesterday, Nintendo announced a Nintendo Direct for September 1st.  Is this it?  Is it FINALLY time to learn about the NX?
No.
As you can clearly see in the pic above (which comes from Nintendo's announcement of the Direct on Twitter), the digital show will be "focused exclusively on Nintendo 3DS games."
Pretty cut and dry, right?  Still, hopeful fanboys couldn't help hoping that Nintendo would sneak a bit of NX info in there anyway.  So, despite the announcement outright stating that the Direct would focus "exclusively" on the 3DS, Nintendo still ended up reiterating to GamesBeat that the NX "won't be discussed during the presentation."
That's a super bummer but there are 29 other days in September to talk about the NX, right?  Sure, but where did the idea that Nintendo would talk about the NX in September come from?
Well, Sony is rumored to announce its PS4 upgrade, the Playstation Neo, on September 7 and fanboys reason that shortly thereafter is as good a time as any!
Yeah, that's pretty much it.  Sure, there are some arguments that it is in Nintendo's best interest to wait for Sony and Microsoft to spill the beans on their new hardware before it debuts its own but really it just comes down to the fact that fanboys are starved for info and are hoping we get some soon.
Which is understandable.  I'm a huge Nintendo fanboy myself but even I have grown tired of rumors and speculation.  I'm no less excited about the NX but only official information can sate this fanboy now.
A bone, Nintendo.  Throw us one!
I mean, it's not like doing so is going to cut into your Wii U business…