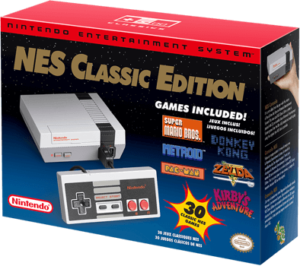 A couple of weeks ago, prior to the Nintendo Switch announcement, I had a weird dream in which it turned out that the upcoming NES Classic Edition actually was the NX.
That's dumb but I shared it on Twitter anyway and one of my followers replied, "Don't scare me like that. Unless…unless they plan to make new NES games. Old-school meets modern AAA."
And that got me thinking… What if Nintendo made a new console dedicated to retro-style games?
The NES Classic Edition plays 30 classic NES titles and that's it.  You can't buy additional classic games for it and developers can't make new ones.
But what if Nintendo put out a new console that was, power-wise, say, somewhere between the NES and the SNES?  A new system that was designed and marketed to play ports of old classics and brand new, retro-styled games such as Shovel Knight, Undertale, Stardew Valley and the like?
A nouveau retro console, if you will.
Would the market respond to something like that?  I get the feeling indie devs would be all over such a thing.  Sure, they could simply continue developing retro-styled games for the PC, which boasts a larger potential audience and none of the technological restrictions of this hypothetical console but still, indie devs, by and large, really seem to love Nintendo.  Most of them grew up with its games, after all.
AAA devs?  Eh, I feel most would wait until there was a proven market for such a thing before a company like EA bothered with a retro Madden.  On the other hand, maybe the big guns would get a kick out of releasing de-makes of their popular titles for such a console.  For example, maybe Rockstar would release Grand Theft Auto 6 for the powerful platforms and an old-school, classic-style, top-down GTA for the Nintendo Nouveau Retro (what can I say, I'm a big enough dork to dig that name!)
I think such a project could be a neat experiment and it would be interesting to see if it caught on.  I certainly wouldn't want it to replace the Switch or any future home console business but it could be an interesting, dare I say, "third pillar."
Or, second pillar, if the Switch is super successful and the Big N goes for a console/handheld hybrid from here on out.
So what are your thoughts?  Would you like to see a Nintendo console dedicated to retro-style games?  Do you think such a thing could be a success?  Drop your thoughts in the comments and we'll discuss them on an upcoming podcast!