UPDATE: It's over, we raised $800 for Rady Children's, now I'm going to sleep!
It's time for the Extra-Life charity marathon to support the Children's Miracle Network Hospitals!
Starting at noon PST on Saturday, I'll play video games for 24 hours straight to raise money for the Rady Children's Hospital in San Diego.  Because we've raised $500, I'll be playing for an extra hour!  That's 25 hours of gaming goodness!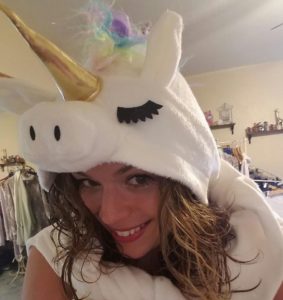 If we raise $650, I'll don the unicorn onesie my sister is modeling in the picture to the right and wear it for the remainder of the stream!
If we raise $700, I'll perform a blind surgery in Trauma Team with my sister guiding me!
If we raise $750, I'll sing a Sixteen Tons for the chat!
Additionally, I have a few donation incentives you might enjoy:
$10 or more – I'll plug something of yours every hour during the marathon!
$25 or more – Your question answered on an upcoming episode of Q & Andrew!
$50 or more – I will listen to an entire Hatsune Miku song of your choosing!
$100 or more – I will make a video in which I declare my undying love for you!
If you'd like to make a pledge, you can do so right here.  Your donation is tax deductible and every penny goes to helping hospitalized kids.  Want more details on donation incentives or Rady Children's Hospital?  Check out my Extra-Life fundraiser page.
Oh!  And my sister, Keleigh, will be joining me for the show!  The fun starts Saturday at noon PST.  We hope to see you there!