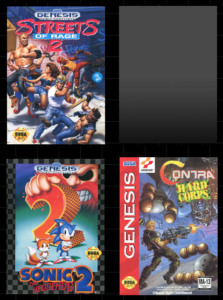 Sega has released the titles of 10 more games coming to the Genesis Mini coming September 19. Andrew and I took the time to come up with 30 games we would like to see on this console. So where do these 10 games line up with our predictions?
Well, the image to the left are the 3 games of the 10 that either both of us or one of us predicted. Streets of Rage 2 and Sonic 2 were both really safe bets. Andrew listed Contra: Hard Corps. That was it for titles on our lists. So what other games did Sega reveal that are coming to the Mini?
Castle of Illusion Starring Mickey Mouse
World of Illusion Starring Mickey Mouse and Donald Duck
Thunder Force 3
Super Fantasy Zone
Shinobi 3
Earthworm Jim
Landstalker
The Japanese reveal is a bit different from the US one. Instead of Sonic 2, Castle of Illusion, Shinobi 3, and Earthworm Jim, the Japanese console will get the following:
Musha
The Hybrid Front
Dyna Brothers 2
Game no Kanzume Otokuyou
There are still 20 more games to come and plenty of time before the console's launch to reveal them. We will keep you posted.