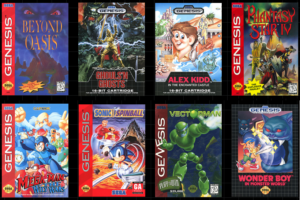 Today, Sega released the titles of the next ten games for the Sega Genesis Mini coming in September. This brings the total to 30 out of 40 titles the system will come with. Earlier in the year, Andrew and I made our predictions/recommendations for 30 games we want to see on the system. So what is our record so far?
Of the ten titles released today, eight of them are on one or both of our lists. Titles on both our lists are the following:
Alex Kidd in the Enchanted Castle
Ghouls 'n Ghosts
Phantasy Star IV
Vectorman
Titles exclusive to Andrew's list:
Wonder Boy in Monster World
Titles exclusive to my list:
Beyond Oasis
Mega Man The Wily War
Sonic Spinball
The remaining titles are:
Golden Axe (Andrew and I both picked Golden Axe 2)
Street Fighter II Special Champion Edition
That brings our scores up to eight correct predictions for each of us. Not bad if I say so myself.
Just with the 30 games we know so far, Sega has a pretty solid lineup that can easily compete with the SNES Classic. It also puts the PS1 Classic to shame. Based on the timing of the title releases so far, we can expect the last ten to be revealed in mid-June, right in time for E3.