One of my favorite games to play with my wife is the SNES game Wario Woods. It is a great match-3 game with a strong competitive mode. We have been looking for a game like it to play these days. I saw Happy Vikings by Handy Games and had hoped that it could be a modern replacement for that great game. Sadly, Happy Vikings did not make me very happy.
Turns out that Happy Vikings is a mobile port. There is nothing wrong with that in general, but it is one of the concerns people have about Ouya games. They worry that too many mobile devs will simply port touch screen games to the Ouya without bringing anything new. Happy Vikings wants to prove them right. It is a lackluster port of a mobile game. The game lacks anything to make it deep or worthwhile.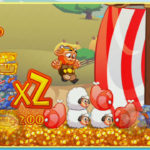 You play as a viking loading your vessel after raiding a coastal village. Your job is to pick up and push sheep, barrels, chests and more in order to match 3 or more of the same in vertical or horizontal rows and columns. Upon matching them, the ship fills just a bit more with gold.
The controls leave a lot to be desired. After having played Wario Woods, I had expected something more akin to that. Yet, that was not to be. You cannot pick up more than one item at a time. If an item falls on your back while you are carrying one, you are stopped in place until you drop the stack. You can push two items at once, but cannot push anything that is stacked. This is very different from the large stacks and kicking functions of Wario Woods.
Another weakness of the game is the over use of horizontal real estate. The game is not confined to the tv screen. This means that often things are happening off screen and you will find yourself running back and forth trying to make sure that you are not missing anything. This also means that there is not a lot of vertical space and you do not have a lot of time to react to objects falling especially if they start falling off screen. I found myself in a situation where an object I was waiting for was falling off screen. When I would run over to get it, something else would fall where I was and block my match. This running back and forth was not fun at all.
Finally, the game is single player only. I guess I was spoiled with Wario Woods and had my hopes up. I had hoped to see some two player competitive match-3 play. But no. It didn't happen.
Overall, I found this to be a bland and disappointing match-3 "me too" type game. There is very little unique or fun about its presentation or gameplay. If you are looking for a good match-3 style game, then you will do well to look elsewhere.
What you get for free: Access To a handful of levels and a sampling of Vikings Forever mode.
What you unlock for paying: All levels and the unlimited Vikings Forever mode
Cost to unlock: $2.99
Verdict: Skip