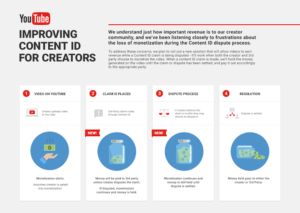 Since Google launched its Content ID program on YouTube, it has been plagued with problems. The biggest problem is that anyone can claim a video without having to provide anything resembling proof. Additionally, when a video is claimed, the original creator completely loses control over the monetization of their work.
That is all going to change with one little adjustment from Google.
Are you ready for this? Google has announced that during the claim and dispute period of a claimed video, the video can continue to be monetized, but those funds will go into escrow waiting for the claim to be resolved. When everything is over and done with, the money made during that time goes to the victor.
Today, we're announcing a major step to help fix that frustrating experience. We're developing a new solution that will allow videos to earn revenue while a Content ID claim is being disputed. Here's how it will work: when both a creator and someone making a claim choose to monetize a video, we will continue to run ads on that video and hold the resulting revenue separately. Once the Content ID claim or dispute is resolved, we'll pay out that revenue to the appropriate party.
Google even admits that this change should help alleviate the problems they created.
Even though Content ID claims are disputed less than 1% of the time, we agree that this process could be better. Making sure our Content ID tools are being used properly is deeply important to us, so we've built a dedicated team to monitor this.
Unfortunately, it will be a few months before this rolls out, but I guess it is a "better late than never" thing.
If you want to see just how terrible the problem is, you can check out our very own Andrew Eisen's experiences trying to release a fun video about Captain Toad.
Nintendo claims fanboy's YouTube video, fanboy extends middle finger
Nintendo and its fanboy – one of them doesn't understand 'Fair Use'
Nintendo-claimed video a "crystal clear case of fair use" says EFF attorney
After 58 days, Nintendo abandons claim on fanboy's YouTube video