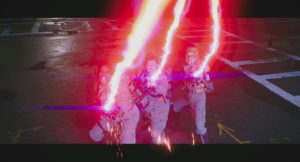 "Would you like to see the 3D presentation of Ghostbusters?" my mom asked as we headed to pick up our tickets for an opening night screening of the new film.
"Nah," I said.  "I like 3D just fine but not enough to justify an extra $4 on the already absurd ticket prices."  (What can I say?  I'm cheap.)
If I'd only known…
The 3D presentations of the new Ghostbusters boasts a nifty gimmick where various elements of the movie such as proton beams will break the frame of the film as shown in the picture above.
That's really neat!
Unfortunately, I didn't know about that.  In fact, I didn't even hear about it until I got back from vacation last week and caught myself up on all the news I'd missed while I was out.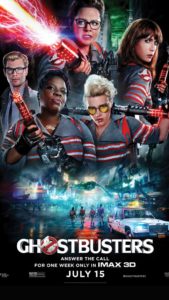 How could a super fan of the franchise like myself who obsessively consumed every piece of media I could find on the movie not know this was a thing?  I looked at every trailer (including international trailers), every TV spot (there were dozens), every interview, movie clip, poster and banner I could find yet I never once heard that the 3D presentations of the film were doing something so fun.
You'd think Sony's marketing would have been trumpeting this gimmick from the mountaintops but so far as I've seen, nope!  Even the poster for the IMAX 3D version of the film (that's it on the right) makes no mention of it.  I first heard about the gimmick when I read about it at Polygon and a few other outlets and they didn't seem to know about it until they saw the film screened in 3D!
"I decided on a whim to watch the film in 3D when I took my daughter," wrote Polygon's Ben Kuchera.  "There doesn't seem to be much buzz about the implementation of the movie's 3D effects before launch, but I was pleasantly surprised by director Paul Feig's use of the technology."
"Leading up to Ghostbusters' release, I haven't heard anything at all about the movie's use of 3D," said MovieWeb's B. Alan Orange.
Reviews of the film itself may vary but everyone seems to agree that the 3D presentation is super fun and worth the premium ticket price.  I know I definitely would have shelled out a few extra bucks to see Ghostbusters in 3D had I known the film was doing something so fun with the presentation and I'm sure others would have too!  If they'd known about it…
Gee, Sony.  Maybe that's something you should have, I don't know, ADVERTISED!!!  Seriously, I know this sentiment has been beaten to death but you really, really, REALLY need to get someone else to do your marketing.
Oh well, now that I know about Ghostbusters' super cool 3D presentation, I'm off to the theater to…
What?  There are no more 3D presentations of Ghostbusters left in theaters?  Oh.
Bummer.