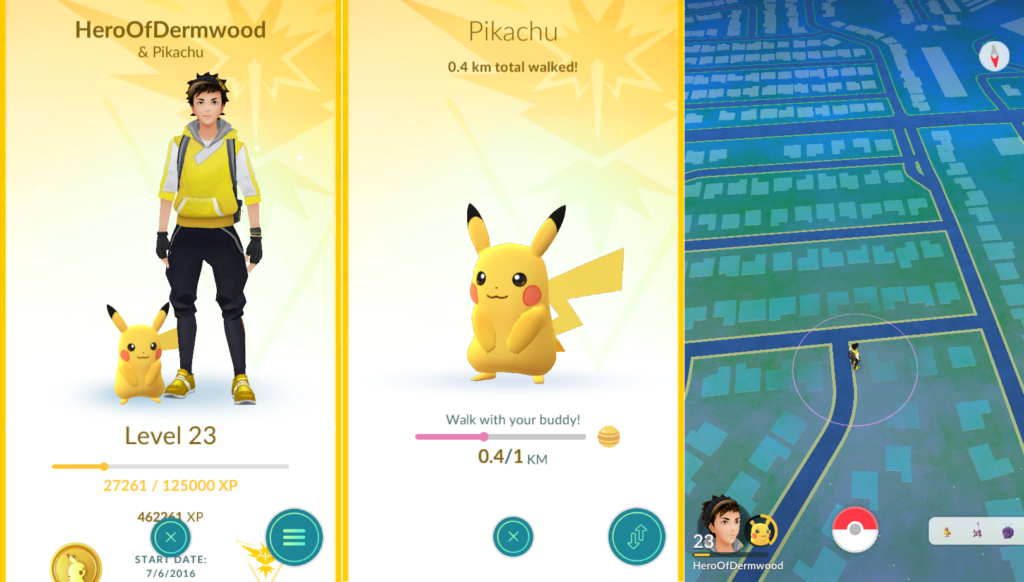 Get ready to walk your feet off. Pokemon Go really thinks you want to walk 400 kilometers to evolve your Magikarp. Distances for pretty much every other pokemon are also comparable.
Yesterday, Niantic released its Buddy Pokemon update. With this update, you can assign one pokemon to be your "buddy". As your buddy, the pokemon appears next to you in your profile and next to your headshot. As you walk, your buddy has a distance meter that fills up. When full, you get one solitary candy.
The problem with this update is the sheer distances you need to walk to get enough candies to evolve your pokemon. The distances needed to get the candy vary, 1, 3, and 5 kilometers. Most pokemon seem to fall in the 3k range, but there are some that are 1 and quite a few that are 5.
If all of the pokemon were 1k for 1 candy, this wouldn't be that big of a deal. If you walk an average of 5k a day, you could evolve your Pikachu in as little as 10 days. However, if you want to evolve your starter pokemon, Squirtle, Bulbasaur, or Charmander, you will need to walk 75k to evolve it the first time and then another 300k to evolve it the second. That is 75 days worth of walking or nearly 11 weeks. It is even worse for something like a Dratini. That one gives you one candy for every 5k walked. To get your Dragonite, you would have to walk 625k, or 5k a day for 125 days.
The idea of this update was to help those people who either only ever find one pokemon or hatch only one, but can't seem to find any more in the wild. Or for those people who are just a couple of candies away from getting that sought after evolution. This update is nearly useless for the first group as the distances needed to travel are very prohibitive. But for the second group, it seems to be fine.
This update wouldn't have been so bad had it been 1 candy for 1 kilometer walked for all pokemon. But that is not what we got. Instead, we got something that is nearly useless for pretty much everyone.