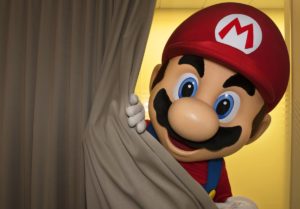 Gamers the world over rejoiced tonight as Nintendo finally popped its silence balloon and announced that it will air a "preview trailer" for its new console tomorrow morning (10/20/16) at 7a PST.
Its Twitter announcement was accompanied by the incredibly creepy image of Mario yanking back a shower curtain so he can watch you scrub your naughty bits.
Hey, I'm as excited as the next gamer to learn something, ANYTHING, about the NX but what the heck is with that image?
I know it's supposed to be Mario peaking around a curtain behind which the NX ostensibly dwells but that looks like a shower curtain, the room he's in looks like a bathroom, and his model render is seriously making my skin crawl.  (EDIT: I've been told that's not a render but a guy in a Mario costume.  No wonder it's so damn creepy!)
Eh, whatever.
Nintendo has confirmed that its NX preview trailer is only 3 minutes long.  Taking that into account, here's my guess as to what we'll see tomorrow:
The NX's final name
A specific release date
A look at the hardware
A broad overview of the system
A quick glimpse of software
Feel free to leave your guesses in the comments below then try to sleep tonight with the knowledge that Mario is watching you.
Always watching…