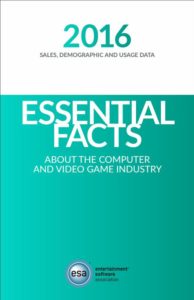 Another year, another Essential Facts About the Computer and Video Game Industry report released by the Entertainment Software Association, the org that represents the interests of video game publishers but not necessarily gamers.  You'd think those interests would be one and the same but perhaps that's a rant for another time.
The demographic data in the annual report is compiled from a survey of over 4000 American households conducted by market research company Ipsos MediaCT for the ESA.  You can read the report and devour all of its numbery goodness at your leisure but here's the data I found most interesting:
48% of U.S. households own a dedicated game console – I guess consoles aren't going the way of the dodo anytime soon.
95% of the most frequent game purchasers who own dedicated game consoles purchase video games for them – The missing 5% are probably Vita and Wii U owners.  Zing!
The average gamer is 35 years old – That said, gamer age range is a pretty even spread.  The report breaks up gamer ages into four categories and each one hosts about a quarter of the game-playing population.
27% under 18 years
29% 18-35 years
18% 36-49 years
26% 50+ years
PC and dedicated game consoles are the most popular devices among "frequent gamers" – Here's how it breaks down:
PC (56%)
dedicated game console (53%)
smartphone (36%)
wireless device (31%)
dedicated handheld system (17%)
On the other hand, if you lump together smartphones and wireless devices (which I assume means tablets and such), then they're trumping PC and consoles at 67%.  (Edit:  I meant that as a joke (and in retrospect, boy howdy is that a lame one) but after reading MechaTama31's comment below, I realize it comes off like I don't know how to read the results of these surveys.  Oh well!)
A little over half (54%) of "frequent gamers" play games socially – Those weirdos who like playing games with other people (single-player gamer for life!) average 6.5 hours per week playing with others online and 4.6 hours per week playing with others in-person.
A whopping 75% of "frequent gamers" believe playing video games provides mental stimulation or education – Which is just a step away from Jack Thompson's accusations of mental masturbation!
93% of parents believe that the parental controls available in all new video game consoles are useful – Although, interestingly, only 86% of parents are aware of the ESRB rating system.  I have to wonder if that number would be higher if you showed them a game box, pointed to the rating and said, "This thing right here!"
60% of the games released in 2015 were rated E or E10+ – While only 11% were rated M, M-rated games made up half of the top 20 best selling console games of last year and 6 of the top 20 best selling PC games.
57% of parents play video games with their kids because they enjoy it as much as their kids do – 62% of parents of gamer children report playing games with their kids at least once a week.  Here are the top five reasons they do so:
It's fun for the entire family: 88%
Because they're asked to: 76%
It's a good opportunity to socialize with their child: 76%
It's a good opportunity to monitor game content: 59%
They enjoy playing video games as much as their child does: 57%
Number 2 is my favorite.  "Daddy, play Smash Bros. with me!"
"Ugh, do I have to?"
"Yes, or I'll tell Mom you were MEAN TO ME!"
"Fine, just stop spamming Pikachu's cheap-ass lightning attack you insufferable scrub."
"Git gud, Daddy.  Git gud."