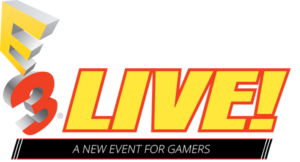 For a reporter, covering the goings-on at E3, the annual video game trade show put on by the Entertainment Software Association, is a massive pain in the ass exacerbated by the fact that a good chunk of the people you're wading through to get to the person you're supposed to interview or the game demo you're supposed to attend are not a part of the industry and have no business being there in the first place.
Yes, every year gamers who are excited about what's new in the gaming world but are not a part of the video game industry manage to weasel their way into the event and get in the way of those of us there to work (and, let's be honest, fan boy and fan girl out at all the exciting gaming goodness).
For years, people have floated the idea of opening up one of the event's days to the public.  Well, this year, the ESA has taken a slightly different approach.
E3 Live is a new event that is open to the public and will take place just down the street from E3.  Tickets are limited but they are free and are given out on a first-come, first-serve basis.  At the event you can expect game and VR demos, live music, dance competitions, industry personalities and merchandise galore.
This is actually an interesting idea.  According to Ars Technica, the ESA is expecting 20,000 attendees at the new event.  Will gamers who have no business attending E3 be happy attending the free event next door?  Will more journalists be willing to attend E3 with the riffraff out of the way?  Will more publishers be interested in attending E3 with more reporters there to cover their stuff?  Time will tell.
Of course, the preliminary list of companies participating at E3 Live is not exactly exciting:
Alienware
Facebook/Oculus
Frito-Lay
HTC Vive
Loot Crate
Monster
Twitch
Ubisoft
Warner Brothers Interactive Entertainment
Seriously, Frito-Lay?  Whoopee…
But hey, the ESA is expected to announce a fuller list of participating companies closer to the show date so I'll try to give it the benefit of the doubt but Frito-Lay sounds like bottom-of-the-barrel scrapings to me.
Like E3, E3 Live takes place in Los Angeles from June 14 – 16.  You can register for tickets at E3LiveLa.com.