Archive for category Game Philosophy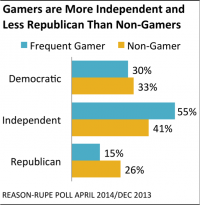 Originally posted on Game Politics
It might not come to a big surprise for many of you, but gamers are less likely to be conservative than non-gamers and more likely to use products and services that many politicians want banned.
The two most recent Reason-Rupe polls show that gamers are more likely to consider themselves independent in their political views. The polls show that 55% of frequent gamers consider themselves independent while 30% consider themselves Democratic and 15% Republican.
The polls also show that gamers support a wide variety of activities and products including buying energy drinks (84%), online gambling (71%), legalizing marijuana (62%) and using Bitcoin (55%). Of all the listed activities on the poll, the only notable exception to this is with 3D printed guns. Only 42% of gamers support the printing of guns at home.
Gamers also have a less favorable view of the police actions than non-gamers. 72% of gamers feel that giving the police drones and military equipment goes too far. Additionally, 63% of gamers feel that the police are not properly held accountable for their actions.
Source – Reason.com
Say what you will about Anita's arguments, her bias, or whatever. A lot of people have. In fact a lot of people have said some very despicable things about her person too. But despite all that commotion, one thing is for sure. These videos of her's are sparking a much needed dialog in the games industry.
This latest video is the third and last video of her dissection of the "damsel in distress" trope as it is used in games (the first to are posted below). It is the third video in a much larger series of videos that her overwhelmingly successful Kickstarter promised to produce. Where the first video highlighted the use of the trope in early games like Mario, Zelda and Double Dragon and the second video showed its use in more modern games, this latest video shows that the trope is so pervasive in gaming culture that even indies tend to over use it.
The important thing to come from this, and frankly the whole point to the video series, is that it has sparked a much wider discussion of the portrayal of women in games. Everywhere on the internet, except the comment section of the videos as those are closed, people are talking about the problem of tropes in games. While some people are attacking Anita herself, others are focusing on the message. What does the overuse of the damsel in distress trope say about game designers and story tellers in games? Read the rest of this entry »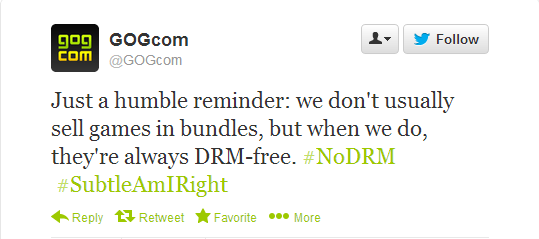 Earlier this week, the Humble Bundle announced its latest offering, the Humble Deep Silver Bundle. This new bundle is the latest entry in the Humble Bundle's recent history of abandoning its original ideals to sell higher profile games. When the Humble Bundle started, it had a few ideals it stood for, pay what you want, cross platform, DRM-free and helps charity. These ideals held true for a couple of years, but then they reached a point where two of those ideals didn't matter as much.
At some point, the Humble Bundle guys decided that cross platform and DRM-free were simply optional. Some early bundles had some tech demos or games that weren't available for Mac or Linux, but the majority of the games were. Then they started introducing entire bundles that were Windows only. Not only that, but many of those games were also tied to Steam. Meaning, you couldn't play those games without Steam DRM on your computer.
Well, the folks over at Good Old Games took to Twitter to gently haze Humble Bundle for its abandonment of its DRM-free ideal. It wrote three tweets. The first tweet was written as to allude to the Humble Bundle but not name it specifically. Read the rest of this entry »